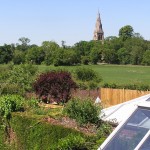 I am a great admirer of Jeremy Irons. He appears, as the fictional Raymond, Count of Tiberias, in one of my favourite films, Ridley Scott's Kingdom of Heaven. I had much enjoyed being directed by Ridley in his previous film, Gladiator, but hated his Kingdom when I first saw it, put off by the neo-Communist tendencies of the hero. It was hardly credible that Balian of Ibelin would have preferred the life of a common blacksmith to that of an opulent, if beleaguered, lord of Outremer. However, the film is an amazing spectacle, which seems to capture both the look and the spirit of twelfth-century Palestine.
Jeremy Irons delivers a typically magnetic performance. Regrettably, he has since been hopelessly mis-cast as Pope Alexander VI in Sky Atlantic's current series The Borgias, from which it appears that the scandalous pope and all his family led remarkably dull lives.
Off screen, Irons has a pleasingly elegant and insouciant manner, and a tendency to be 'tactile' with women that occasionally lands him in trouble. In an interview with the Radio Times, he maintains that for a man to put a hand on a woman's bottom is a form of 'friendly communication', with which any woman worth her salt ought to be able to deal.
This month (9 August), he has been pictured in the Daily Telegraph in an encounter with someone called Sienna Miller. He rests his hand on her shapely hip, whilst gazing admiringly at her cleavage. She seems not to mind, but one must accept that such behaviour is not generally tolerated. This sort of gesture may pass 'in thespian environs as a camp affectation,' writes the Telegraph columnist, Hannah Betts. 'In the real world, though, it is regarded less as "communication" than sexual assault.' What it communicates to Miss Betts is the message that Irons is a 'tragic soon-to-be pensioner having a belated mid-life crisis'. (See http://fashion.telegraph.co.uk/beauty/news-features/TMG8691481/Time-that-men-such-as-Jeremy-Irons-got-a-bum-steer.html.)
Irons floats a rather more interesting idea in his interview with the Radio Times, in which he admits to having 'a salacious private life, which I hope most people have. We only live once.' It is as well for me that Pope Alexander enjoyed a notably salacious private life, as I myself am the fruit of his loins, directly descended from his son Cesare. (See Patrick van Kerrebrouck, La Maison de Bourbon, 1256 – 2004, IV (Villeneuve d'Ascq, 2004), pp.789-96; Rupert Willoughby, 'Cesare Borgia – his Marriage and his Descendants', in John Campbell-Kease ed., Tribute to an Armorist: Essays for John Brooke-Little to mark the Golden Jubilee of the Coat of Arms (London, 2000), pp.102-16.) In the first episode, when the newly-elected Alexander mounts the famous hollow throne to have the said loins inspected – thereby ruling out the embarrassment of another Pope Joan – and is declared to have 'duos testiculos, et bene pendentes', I found myself positively glowing with pride. I shall therefore follow the series with familial interest, if only for the inevitable re-enactment of the notorious 'chestnut orgy'.
Meanwhile, I should like to propose that Mr Irons try the following approach with women. It is harmless, and may prove more effective.
You should solemnly kiss the woman's hand, then ask to kiss the other one too. You should then say something along the lines of: 'Not only are you the kindest and most amenable woman in the world, but you are grace personified, and they should build temples of white marble to you in groves of myrtle. I am very much afraid that what happened to Psyche may happen to you as well, and that Venus will become jealous of you.'
At this point, join the two hands together and press them both to your lips. You may be asked whether you have learned such fine phrases by heart, in which case you must quickly say: 'Not at all. You are certainly worth turning a fine phrase for, and lovely enough to have lyrics specially composed in your honour' etc. etc. (After Théophile Gautier, Mademoiselle de Maupin (Paris, 1835), Chapter VII – the supreme Romantic novel.)