It was the ultimate indignity for an old soldier. On 1 October 1633, Major-General Jakob Duwall, Commander-in-Chief of Swedish troops in Silesia, had been defeated and captured at the Battle of Steinau. In the aftermath of the battle, his opponent Wallenstein, one of the most terrible generals of a terrible war, was reluctant to storm the fortress-city of Glögau, so set up a gallows in clear sight of its main gates. Duwall was brought forward and a noose was placed around his neck. A soldier never knows where or when he will die, but death can come at any moment, and must be faced with resignation and fortitude. Luckily for Duwall, the garrison hurriedly threw open the gates.
Renowned as a brave warrior and skilled tactician, Duwall had become complacent in his old age, or perhaps was distracted by his personal affairs. His wife Anna, captured with all her baggage during a sudden attack, had died in April of that year, and he had been prevented from overseeing her burial. The Swedish Chancellor, Axel Oxenstierna, characterises him as a rapacious risk-taker and dipsomaniac, traits that he, for one, was prepared to forgive in a soldier. To the Elector of Saxony he seemed 'ein ruhmrediger Mann, der sich mehr verratut, als er auf Gott sich verlassen' (a boastful man who has greater faith in himself than in God). Stubborn, quarrelsome and permanently tight, Duwall had allowed his 2,000 soldiers, all of whom were billeted on the unwilling local population, to loot and burn as they pleased, and relations with his Saxon allies were under severe strain.
The isolated Swedes were thus entrenching themselves at Steinau, when the implacable Wallenstein suddenly fell upon them. Far from rising to the occasion, Duwall was so drunk that he could barely speak. He was to be Wallenstein's prisoner for several weeks, playing the part of a drunken sot with great conviction. However, something of his old nimbleness remained, and on 13 November, he gave his captors the slip. Thereafter he sent a flurry of letters here and there, demanding a court martial to clear his name and pleading for funds with which to reorganise his army. The strain of all this was considerable, and Duwall, still in Silesia, died of drink on 9 May 1634,within months of the assassination of Wallenstein.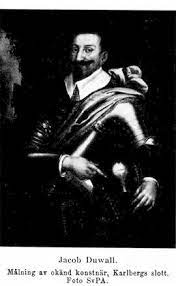 Jakob Duwall had been born some 45 years before in Prentzlau, Altmark, and his real name was MacDougall, which has always been pronounced and is now usually spelt 'MacDowall'. He and his father, rechristened 'Albrekt', along with his uncle Robert and his three German-speaking brothers, Mauritz, Tobias and Axel, were among the tens of thousands of Scotsmen and women who flooded northern Europe in the late sixteenth- and early seventeenth-centuries, in search of their fortunes or of adventure. From Holland to Denmark, from Germany to Poland, they included students, merchants, craftsmen and swarms of peddlars, many of whom settled in these countries and flourished. In the mid-1500s, even the Provost of Elsinore was a Scot. What fun Shakespeare could have had with that information! As a result, Scottish ancestry is widespread among the Poles, many of whom have polonised Scottish names. Chalmers was transformed into Czarmas, Cochrane into Czochran, Forsyth into Forseit etc. It is even suggested that Lech Wałęsa, the Polish national hero of recent times, was truly a Wallace.
In Russia and Scandinavia, the demand was not for peddlars but for mercenaries, and thousands of warlike Scotsmen were eager to oblige. Thus 'Albrekt' MacDougall had migrated to Sweden with his German second wife, Elsa von Bredau, and their children in 1594. He was Sheriff for Orby by 1615 and a Captain in Baron Gustav Horn's Savolaks Regiment by 1625. 'Albrekt' was a more familiar version of his real name which is not recorded, though 'Uchtred', a favourite forename of earlier MacDougalls, is a possible candidate.
Foreign soldiers had been raised in the 1590s to fight the Russians and the Poles with whom the Swedes were almost constantly at war. Albrekt's three boys all entered military service when of age, Jakob first seeing action against the Poles as an eighteen-year-old musketeer. By the time of the Thirty Years War, when the military registers indicate around 25,000 Scots in Scandinavian service, all three brothers were colonels of regiments. Jakob, whom Chancellor Oxenstierna flatteringly described as 'en redelig Sveriges invohnere' (a true citizen of Sweden), was promoted to major-general in 1632.
Questions of nationality were of less importance than the issue of nobility. Oxenstierna's law of 1634, the Instrument of Government, made noble birth, or ennoblement, a condition for all public commissions or office, and particularly for membership of the newly-incorporated Riddarhuset, or 'House of Knights', of the Riksdag. Jakob Duwall's brother Mauritz was duly admitted in recognition not only of his father's faithful service, but also because 'Jakob Forbes and Johan Oxenstierna, who travelled in Scotland, testified that they had heard nothing but that the Dougalls were a noble family'.
Later generations sought more detailed proof to secure their privileges. Jakob Duwall was ennobled posthumously in 1674, allowing his sons to enjoy the title of 'Friherre', but his first cousin William (son of Albrekt's younger brother Robert) had left two sons, Gustav and William, who had no desire to be thought of as commoners. It seems that the latter made a special journey to Scotland, 'in the name of and on behalf of his brother', in order to obtain information about their ancestry. It is questionable whether young William knew any English, let alone Scots, but he contrived to meet the right people and to ask the right questions. Three old men in their eighties were interviewed, including one Thomas MacDougall of Stodrig. All three had known Robert MacDougall and his parents in Scotland, in the years before his emigration to Sweden.
Introduced to other cousins who could vouch for their respective antecedents, William was given a clear account of the previous five generations of his family. He learnt that his grandfather Robert, who 'crossed over into foreign parts' some 60 years before (c.1596), and indeed Robert's elder brother 'Albrekt', were the sons of Patrick MacDougall, younger brother of James MacDougall of Makerstoun, by his wife Margaret, daughter of George Nisbet of that Ilk. Both the MacDougalls and the Nisbets were border lairds (Makerstoun is high on the Tweed, near Kelso) and were connected to some of the most historic families in Scotland. According to the evidence collected by William, Robert's great-grandparents included Andrew MacDougall of Makerstoun, Margaret Scott of Buccleuch, Walter Ker of Cessford, Patrick Nisbet of that Ilk, Margaret Douglas of Longniddry and Cuthbert Cranstoun of Thirlestane Mains. They are like a roll-call from one of Scott's novels.
Each was indeed noble according to the Scots definition, which ascribes nobility to all persons bearing a coat of arms. A patent of arms from the Lyon Court (which regulates heraldry in Scotland) is, even today, considered a diploma of nobility. William had garnered the testimonials of some highly creditable witnesses, such as the guardian to the then Countess of Buccleuch, who would have had unhindered access to the family records; likewise William Cranstoun of that Ilk and Adam, the son of Alexander Nisbet of that Ilk. William's gleanings are thus a valuable primary source, especially when corroborated or augmented by evidence from elsewhere.
The next step was to present the accumulated testimonials to some respectable body for authentication. It was and is the practice in Scotland to have one's antecedents set forth in Letters Patent known as a diploma stematis or 'birthbrief', and quite usual in the seventeenth century to obtain them not from Lyon Court but 'from local Town Councils (where the proof was less exacting than Lord Lyon's), but these were usually for the consideration of the patriciate of foreign cities'. William wisely chose the baillies of the Provost and Corporation of Edinburgh, whose pronouncements were sure to carry weight even in Sweden.
Examining just such a birthbrief from 1669, that of one Walter Innes, issued by the City of Aberdeen, Sir Thomas Innes of Learney, himself Lord Lyon, deplored the prominence given in the document to the royal arms, those of the city being entirely absent. One hopes the baillies of Edinburgh were less impudent, but an illustration of the royal arms would no doubt have added gravitas to the resulting document. Helpfully translated into Latin, the birthbrief was signed and sealed by their clerk, William Thomson, on 6 March 1656. Having thus concluded his business in Scotland, William MacDougall returned triumphantly to Sweden and the Letters Patent were in due course registered in the State Archives in Stockholm, where a transcript can still be read today.
The chronology suggests that Margaret Scott of Buccleuch who is mentioned above was the sister of 'Wicked Wat', a notable riever, who was murdered on Edinburgh High Street in 1504, in a feud with the Ker family of which his own mother was a member. The Kers, from whom the MacDougalls had a double descent, are thought to have originated at Criel-sur-Mer in Normandy, a name which in old documents is rendered 'Ker' (house). The pronunciation of the name is problematic. According to Admiral Mark Kerr, 'In Scotland the name rhymes with care. Since many of the family have come to England the pronunciation in this country rhymes with car, which we have entirely submitted to'. Through the Scotts and the Kers, the MacDougalls had a double dose of Scottish royal blood: the Scotts were descended, through his grandson William 'the Red Douglas', 2nd Earl of Angus, from the sad, ineffectual King Robert III, baptised as John Stewart, who died of grief in 1406; and the Kers from his ambitious brother Robert, Duke of Albany, who ruled for him and for his son as Regent until his own death in 1420.
The blood royal of Scotland was thus transmitted to Jakob Duwall's living descendants who are through the female line, the last male, Fridof Duwall, having died unmarried in 1923. Jakob's daughter Elsa, for example, married Lorentz, Friherre Creutz (1615 – 1676), a civil servant who in 1669 served on the infamous troll commission in Mora, which in a wave of hysteria interrogated sixty suspects and executed thirteen alleged witches and one man by decapitation, their corpses being burnt at the stake. Bizarrely, without ever having previously put to sea, Creutz was then appointed Admiral-General of the Navy, and perished when his top-heavy flagship, the mighty Kronan, capsized in the middle of a battle.
Their son Lorentz, Friherre Creutz, was Director of Mines in Finland, married to Ebba Maria Fleming, a descendant of King Gustav Vasa's favourite Erik Fleming. They were succeeded by Claus, a captain of dragoons, married to the daughter of the distinguished general, Bleckert Wachtmeister af Björkö, who led the Swedish right wing to victory at Narva in 1700. Amongst their descendants, through a daughter Ebba who married the Friherre Lybecker, were the Knorrings, a branch of whom settled in Russia in the early 1800s. The fascinating Friherrinan Nadezhda Ivanovna Knorring (1826 – 1895), Dumas fils's 'green-eyed siren', is described by Tolstoy as having 'driven many men out of their minds'. The author of this memorial is her descendant.
To judge from their portraits, Duwall and his line were a series of grim-visaged individuals, all armed to the teeth and poised to confound the Catholics by wreaking havoc on various fields of war. Belying the contemporary image of the Swedes as peace-loving, blond-haired egalitarians, these men are dark and brooding, evidently preoccupied with their battles and sieges, their swashbuckling adventures and their acts of reckless heroism, not to mention their coffers. Yet it was on the achievements of such men that modern Sweden was built.
As for Makerstoun, a property of the MacDougalls since 1374, where the tower-house of 1590 partially survives, it eventually passed through an heiress to Major-General Sir Thomas MacDougall-Brisbane of that Ilk (1773 – 1860), soldier, colonial administrator and astronomer, who has lent his name both to the third largest city in Australia and to a crater on the moon.
[Based on Riksarkivets ämnessamlingar. Personhistoria, SE/RA/756/756.1/D/I/D 27 a. A photograph of this document (in which 'of that Ilk' translates prosaically as 'de eodem') can be viewed on the Riksarkivet website – https://sok.riksarkivet.se/bildvisning/A0069586_00149#?c=&m=&s=&cv=148&xywh=-309%2C-692%2C8822%2C5164. Being an office copy it is not, of course, illuminated. A translation is available on the University of St Andrews SSNE database – https://www.st-andrews.ac.uk/history/ssne/item.php?id=8347. On birthbriefs, see Innes of Learney, Scots Heraldry, pp.99-100, and 'Further Note on the Birthbrief of Walter Innes', Proceedings of the Society of Antiquaries of Scotland, LXXXI (1947), pp.114-18. See also the complementary accounts of Duwall on the Swedish Riksarkivet website, https://sok.riksarkivet.se/sbl/Presentation.aspx?id=17733, and on https://www.adelsvapen.com/genealogi/Duwall_nr_64, as well as in T.A. Fischer, The Scots in Sweden (Edinburgh, 1907), Part II, passim; Christopher Smout, 'The Culture of Migration: Scots as Europeans, 1500 – 1800', History Workshop Journal, 1995, No.40, pp.108-17; and http://www.mapascotland.org/story-of-the-map/did-you-know/#:~:text=%E2%80%A6that%20some%20Polish%20surnames%20are,%2C%20Machayskis%2C%20Machlajds%20and%20Makolroy.]