The following titles are available from all good stockists, or can be ordered directly from RupertWilloughby@btinternet.com.
BASINGSTOKE AND ITS CONTRIBUTION TO WORLD CULTURE
First published 2010, 3rd impression 2018, ISBN 978 0 9534428 6 7, £10.99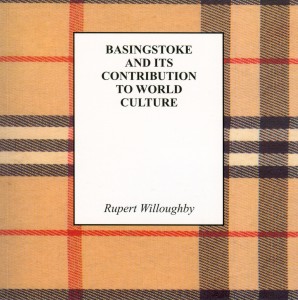 Basingstoke is a phenomenon. One of the most derided towns in England, it is renowned for its pointless roundabouts, vacuous shopping centres and hostile Modernist architecture, and treated as a joke even by its own residents. It is not widely recognised for its contributions to 'world culture'.
Using all his ingenuity, Rupert Willoughby has scoured the historical record in his mission to rehabilitate Basingstoke. He describes the manner in which demented post-war planners wilfully robbed the town of its individuality and charm. Yet a nobler Basingstoke lies buried under the concrete – the Basingstoke of Walter de Merton, the medieval pioneer of university education; of Jane Austen, who attended regular balls in the old Town Hall and describes them in her novels; of Thomas Burberry, inventor of the raincoat and reformer of dress, whose influence on fashion is felt to this day; and of Margaret Chandler, who has lent her name to a delightfully sunny spot in Australia.
This is local history with a difference. Imbued with a strong sense of place, it is accurate but rarely impartial. The author strives to be anything but dry and reverential, yet evokes with great sympathy the tragi-comic lives of Basingstoke's former inhabitants. He cannot make you like the town, but at the end you may, at least, understand it.
'Entertaining and sometimes thought-provoking … this book is to be enjoyed, light in tone, well researched and occasionally contentious'
Basingstoke Archaeological and Historical Society Newsletter
'A work of solid historical research, no more tongue in cheek than its subject matter demands, and thoroughly entertaining … I found myself with a greater understanding of Basingstoke and considerably greater affection and sympathy for the town'
Jim Osgerby, The Odiham Society Journal
Despite its whimsical title, this book is both informative and entertaining. Rupert Willoughby discusses the lives and careers of four individuals with links to Basingstoke whose impact can justifiably be described as international. Thomas Burberry (1835-1926), inventor of the waterproof 'gabardine' cloth, ran a draper's shop in Winchester Street and was a major benefactor to the town. Walter de Merton was born in Basingstoke in the early thirteenth century, was educated at Merton Priory in Surrey, and founded Merton College, Oxford, in 1264. Jane Austen (1775-1817) was a regular visitor to the town, where she attended assemblies and balls. Finally, Margaret Chandler (1822-1915) was a life-long resident whose name was given to the Margaret River in Australia as a result of the intrepid journeys of her more adventurous cousin John Bussell.
Willoughby is a talented historian, but in this book he also demonstrates his skills as a polemicist, taking amusing aim at some particular bête noires. Observing that in the early twenty-first century the Burberry brand was appropriated by 'chavs', he launches into a blistering though insightful account of 'prole drift', whereby up-market products are increasingly consumed by lower socio-economic groups. Even more venomous is his discussion of Basingstoke's redevelopment from the 1960s by Patrick Abercrombie and other 'self-congratulatory, middle-class, left-wing intellectuals of the architectural schools' (p.92). The author's anger is no doubt heart-felt but like much polemic it is also sometimes extremely funny. Certainly the book provided the comedian Mark Steel with material for his hilarious talk about Basingstoke (first broadcast on Radio 4 on 20 Dec. 2011). Basingstoke may or may not be a boring and unattractive town in which to live, but few could doubt that it is an interesting place to study.
Mark Page, Hampshire Field Club News Letter
'A most entertaining and enlightening enterprise. It makes you want to visit Basingstoke, and that is quite some achievement.'
Michael Warman, The Jane Austen Society News Letter
READING AND ITS CONTRIBUTION TO WORLD CULTURE
First published 2008, ISBN 978 09534428 5 3, £10.00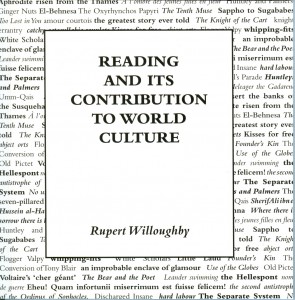 Poor Reading! It has a formidable history, yet has been so careless of its historic fabric. How is the intelligent visitor to cope with it? Here he, or she, can discover the important part that Reading has played in the lives of various poets and writers: how Sappho's lost verses were preserved in Huntley and Palmers' biscuit tins; how a local man, John of Earley, had the life of William the Marshal commemorated in verse; how Jane Austen, Coleridge and Oscar Wilde all found inspiration here; and how a theft on Reading Station drove T.E. Lawrence to despair … Wry but affectionate, this is the essential vade mecum as Reading bids for 'City of Culture' status.
'Yes, it is Reading the town, not Reading, the activity! And yes, Rupert Willoughby eloquently persuaded me that Reading could indeed claim this title. I must admit that at first glance the extraordinary collection of titles and phrases on the front cover were the sort of thing a typesetter uses to display different fonts. But no, every one has its place in the book, from the obvious "Huntley and Palmer Ginger Nuts" to "The Oxyrhynchos Papyri". Rupert says his book is intended as "an antidote to the vulgarity of modern Reading, or as a provocation to higher thoughts than it usually inspires". I found this little book so fascinating that I can't either summarise its contents or pick out "cherries". Do find it for yourself (at Waterstones or Milestones) and make your own discoveries …'
Basingstoke Archaeological and Historical Society Newsletter
'A substantial and interesting chapter is, as one would expect, devoted to Reading Gaol. The Huntley and Palmer biscuit factory was close by, and one of Oscar Wilde's friends was Walter Palmer, whose brother George, the chairman of Huntley and Palmer, was one of the five magistrates comprising the Reading Gaol Visiting Committee. He and the future Lord Chancellor, Richard Haldane, took a personal interest in Wilde's welfare and transferred him for his health from Wandsworth to Reading. Incidentally, the biscuits which Wilde's good friend Warder Thomas Martin gave him in his last weeks in the Gaol were Huntley and Palmer ginger nuts.
Other chapters include accounts of Jane Austen at the Reading Ladies Boarding School, Coleridge at the Bear Inn, and the over-enthusiastic beating of boys at Reading School. There is even, just about, a connection with Sappho: Huntley and Palmer biscuits sustained the classicists Bernard Grenfell and Arthur Hunt in Egypt during their search for papyri, and the biscuits tins were invaluable for packing their finds for shipment back to Oxford, which included newly discovered stanzas by Sappho.
This is a lively, informative, discursive and very civilised little book which will tuck into one's pocket, and on a train journey between Paddington and Reading while away the time most agreeably.'
Intentions (Journal of the Oscar Wilde Society)
'If he were not so deadly serious, I would guess that he was having us on.'
Dr Tony Corley, The Jane Austen Society News Letter
CHAWTON: JANE AUSTEN'S VILLAGE
With illustrations by Julie Anne Hudson
2nd Edition 2003 (first published 1998), ISBN 978 09534428 4 5, £7.99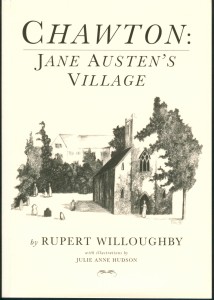 The mecca for Jane Austen's admirers worldwide, the Hampshire village of Chawton has changed little in the past 200 years, and is easily explored on foot.
This book attempts to re-create the landscape that Jane Austen would have known. At the same time it is a comprehensive survey of Chawton's  thousand-year history – from the turbulent medieval period, when the parish was both the retreat of kings and a centre of organised crime, to the most up-to-date developments.
It explores the beautiful Elizabethan manor-house that was inherited by Jane's brother, and offers a step-by-step guide to the many historic buildings in the village.
Constructed mainly from Jane Austen's letters, from the Knight family archive and from parish records, it draws also upon personal information and site visits as well as dozens of printed sources. It is intended not only for Jane's admirers, but for all who live in or visit Chawton, and who have an interest in its past.
This revised and expanded edition of Chawton: Jane Austen's Village – still the only book of its kind – includes new material based on recently-released documents and has been brought fully up to date.
'An excellent example of how a village guide can and should be written and produced'
The Coat of Arms
'Fascinating reading … It would be very interesting to walk around the village with this book in hand'
Maggie Lane, The Jane Austen Society Newsletter
'Must surely become required reading for visitors to the village'
Hampshire Life
SELBORNE: GILBERT WHITE'S VILLAGE, WITH A GUIDE TO HIS HOUSE
With illustrations by Julie Anne Hudson
First published 2000, ISBN 978 09534428 2 9, £5.99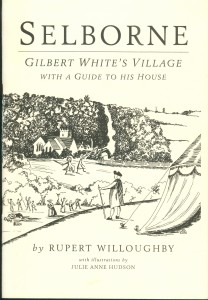 Selborne in Hampshire, a place of 'hollow vales, and hanging woods', is famed as the life-long home of the Rev. Gilbert White. First published in 1788, White's Natural History and Antiquities of Selborne is one of the enduring classics of English literature.
The romantic landscape that inspired White is as rich in human as in natural history. In 1232, a mighty Augustinian Priory was founded here by a warrior-bishop. Though dissolved in 1484, it has left a permanent mark. Crusaders, kings and saints have come and gone. In the 13th century, Selborne nurtured Sir Adam de Gurdon, whose adventures as an outlaw may have inspired the story of Robin Hood. Templar knights lived here quietly and dreamed of Jerusalem.
With the passing of the Priory, Selborne was condemned to centuries of isolation and poverty. Almost completely inaccessible by road, it preserved the aspect, customs and even the speech of an earlier age. A dramatic riot that took place here in 1830, and the construction in 1847 of a new road, marked the ending of its long quietude.
Selborne: Gilbert White's Village tells the story of this remarkable parish from Saxon times. It includes a full account of the author's life, and a detailed description of The Wakes, the house in which he lived and worked. It concludes with a step-by-step guide to historic Selborne, pointing out the actual scenes of many of White's observations. It is intended as a souvenir and practical guide for all who come to the village.
'A real treat … It brilliantly conveys a sense of Selborne's development from the Middle Ages to the present day … Well-written and beautifully produced, this is an example of local history at its best'
Mark Page, Hampshire Field Club and Archaeological Society Newsletter
'This hugely enjoyable treatise, greatly enhanced by the fine delicate drawings of Julie Anne Hudson, with its easy style and wonderfully-researched detail is a real pleasure to read'
Julie Edwards, The Selborne Association Newsletter
SHERBORNE ST JOHN AND THE VYNE IN THE TIME OF JANE AUSTEN, WITH AN ACCOUNT OF THEIR EARLIER HISTORY
First published 2003, ISBN 978 0 9534428 3 7, £12.00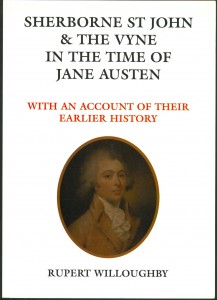 'Less than two hundred years have passed since a bemused Sherborne St John, then a stagnant community of peasants speaking a language of their own, was tardily dragged into the modern world. There has been no looking back …'
In the second quarter of the nineteenth century, Sherborne St John experienced a revolution. Much of this Hampshire village was rebuilt by its reforming squire, William Wiggett Chute of The Vyne. Crumbling thatched cottages were pulled down by the dozen and replaced with smart brick dwellings. Ancient farming practices were abolished, and new roads were created in place of muddy tracks. A village school was founded and the emigration of 'undesirables' was actively promoted. Chute thus laid firm foundations for the thriving, prosperous community of today.
This is the story of Sherborne on the brink of change. Through the eyes of contemporaries, the author describes, in extraordinary detail, its medieval landscape and way of life, touching vividly on personalities and on houses great and small – the surprising and sometimes shocking backdrop to the novels of Jane Austen.
From the Preface
The Vyne in Hampshire, former seat of the Chute family, is one of the finest and best-known Tudor mansions in England. Much has been written of the house and its contents: they were bequeathed to the National Trust by Sir Charles Chute, who died in 1956. The untold story is that of the surrounding parish, and of its relations with The Vyne over many centuries.
Originally the palatial residence of Lord Sandys, a favourite of Henry VIII, The Vyne has received many famous visitors, including Elizabeth I and Sir Walter Ralegh. Reduced in scale by the Chutes, it seemed to be almost forgotten by time. Virtually unreachable by road, it descended into an obscure country seat, all but invisible under a thick covering of ivy.
The parish of Sherborne St John, which had profited from the nearness of a medieval priory and from the patronage of the Sandys family, had in the process become a stultifying, forsaken backwater. Its neglect was never more evident than in the lordship of William John Chute (1757 – 1824), whose life and times have been documented in extraordinary detail. An unusual if attractive personality, Chute was uncomfortable with all forms of change, which he resisted to the utmost. His inertia was matched by that of his feudally-minded neighbour, Mrs Brocas of Beaurepaire, with whom he shared a controlling interest in the parish.
By focusing on Chute, this book opens a window on the whole rich past of Sherborne St John, before the obliteration, in the 19th century, of much of its ancient fabric. Wry and controversial, it is the story of two great houses and of many lesser ones; of high art juxtaposed with the vernacular; of significant events and of daily routine; of masters and servants; of rich folk, and of the abundant poor.
'Remarkably concise and informative'
David Selwyn, The Jane Austen Society Newsletter
See also http://www.rupertwilloughby.co.uk/archives/1166.
A KEY TO ODIHAM CASTLE
With illustrations by Julie Anne Hudson
First published 1997, ISBN 978 0 9534428 1 2, £3.99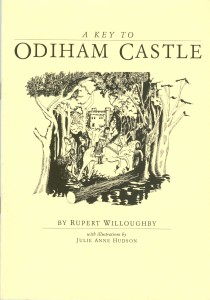 Neglected and forlorn, the ruins of Odiham Castle convey an inadequate sense today of its former grandeur. In the thirteenth and fourteenth centuries, this was an important royal residence and stronghold, the object of lavish expenditure by each successive monarch from John to Edward III, and, during their regular visits here, the epicentre of government – a place, therefore, of national significance. A dilapidated tower and an overgrown moat are the Castle's only visible remains, which, however surprising and impressive to the walker as he first stumbles upon them, are baffling to the inexpert and perhaps, for that reason, somewhat disappointing too. It is for casual visitors to Odiham Castle that this book is intended, as a key with which to unlock some of the mysteries of this evocative site.
'The author draws upon both written and archaeological evidence to conjure up the medieval appearance and atmosphere of the castle'
Hampshire Chronicle
A HEAD OF HIS TIME: THE LIFE AND OPINIONS OF ERNEST GOLLEDGE, REFORMING HEADMASTER, 1872 – 1951
Privately printed in 2014 as an extremely limited edition by Diana Duckworth at Little Metchley, Portesbery Road, Camberley, Surrey, GU15 3TF. Not available for general sale, though enquiries are welcome.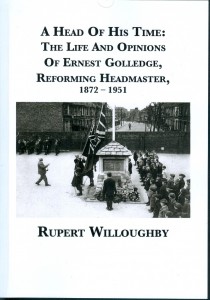 Ernest Golledge was for twenty-seven years – between 1907 and 1935 – the headmaster of St John's Boys' School in Ealing.
St John's was an elementary school and the pupils came from poor, if mainly respectable homes. They were generally undernourished, often infested with lice and, in many cases, inadequately shod. Their expectations in life were pitifully low.
Himself from a poor background in Yorkshire, Ernest made it his mission to improve the life-chances of his boys. He declared war on mediocrity and the self-limiting of their aspirations, urging them to 'be something, be anything, but mean'.
He believed in exposing them to the finest works of art as well as the finest literature. Prints of famous paintings were hung throughout the school, and artefacts displayed from all over the world.
Before long, he was boldly inviting some of the greatest men and women of the day to visit the school and address the boys, as living examples of excellence. Ernest's most striking achievement is the number of famous or distinguished people that he enticed through the school gates – from Queen Alexandra to Shackleton, Lords Haig, Jellicoe and French and countless others.
Ernest Golledge's remarkable life and career might otherwise have been unnoticed by history, but here are evoked in extraordinary detail. Based on his personal archive and other primary sources, the story is not only of his time at St John's, but of his background in some of the toughest schools in the North of England – a shocking reminder of the poverty and hardship of only a century ago.
LIFE IN MEDIEVAL ENGLAND, 1066 – 1485
First published 1997, ISBN 0 85372 840 2, £4.99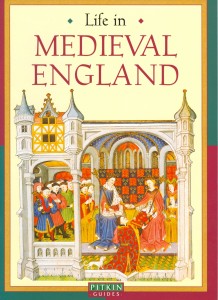 The castles, cathedrals and parish churches of England are the most impressive visible legacies of the Middle Ages. Almost all of them date from the period after 1066, when England was conquered by the Norman invaders from France. The buildings remain, but what of the life that went on inside them? For these were the haunts of the colourfully-clad lords and ladies, the ribald clergymen and the servile peasants of popular legend. They were the backdrop to extravagant feasts, to tournaments between armoured knights, to courtly rituals, and to displays of fanatical piety. The colours may have faded, but the romance lingers still …