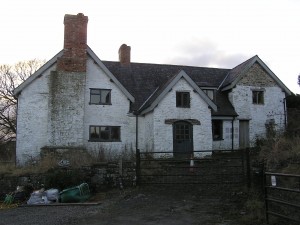 Radnorshire, an obscure Welsh county bordering Herefordshire, is small and mountainous, a place of mainly pastoral farming, where, historically, gentry were sparse and the farmers were content to live as their fathers had done. As a result, it stills abounds in 'unimproved' houses which are often of considerable historical interest. An example is illustrated here – the seemingly unprepossessing, and decidedly forlorn, Upper House at Painscastle.
A planned medieval town with a stupendous castle in its midst, Painscastle, or 'Castell-Paen', is named for a Norman adventurer called Pain fitz John, who died in 1137. Pain's motte and bailey are still impressively intact, but nothing remains of the imposing masonry that was added by Henry III – a round tower keep, a curtain wall with flanking D-shaped towers and a gatehouse at the east end, of which even the foundations have been grubbed up. Traces of Roman pavements have been found, however, and the rectangular shape of the site suggests that it was originally a Roman fort. (Mike Salter, The Castles of Mid Wales, Folly Publications, 2001; Paul M. Remfry, The Castles of Radnorshire, Logaston Press, 1996; http://www.castlewales.com/pains.html, with illustrations.)
Upper House nestles against the outer bank of the castle, on its east side. It is thought to date from the mid-fifteenth century, when the castle, by then a possession of the Earl of Warwick, was already in decline. Upper House was a fitting new residence for the earl's constable, Lewys ap Gwatcyn, a Welsh gentleman of the line of Roger Fychan of Bredwardine. It was a classic H-plan hall-house, consisting of a mini-Great Hall of two full bays, open to a roof of massive and dramatic timber work, set between the two cross-wings, each with an upper storey. The position of the house on sloping ground helped to emphasise its hierarchical plan. There was a step up from the dais-end of the hall to the upper cross-wing, leading into the lord's parlour on the ground-floor, from which there was access to his solar above. The lower cross-wing – that furthest from the bank – was the service wing.
Other houses of similar age and status are to be found in this area, but, remarkably, there is a surviving praise-poem by the Welsh bard Lewys Glyn Cothi that describes Lewys ap Gwatcyn in the newly-built Upper House, referred to as his 'white hall', for most impressive to the bard were the large, infilled panels of the box-framing that would, indeed, have been gleaming white. The master of the house is described as 'the tower of Bredwardine, a chieftain for Warwick's seal (pendefig dros Warwig sêl), the lion's claw, and a leader', who, above all, 'is kind to the court poet'. He keeps a traditional house. It is a place of 'wine and feasting, drunkenness and carousel, braggart and wassail', even at dead of night. There are games of chance with dice and cards, there are chequers, dances, carols and friendship, and seemingly unlimited supplies of mead and beer. (For a translation of the poem, see http://tredelyn.blogspot.co.uk/2006/03/radnorshire-bardic-poems-10.html.)
Lewis Glyn Cothi progressed from one great marcher house to another, laying on the flattery as the price of his supper. At Cefnllys, he sang of its constable, the 'famous' Ieuan ap Phylip, and of another newly-built 'triple court' in the midst of the castle, which no longer survives, but was apparently very similar to the one at Painscastle. Lewis Glyn Cothi's description of a roof 'with close-fitting shields to protect it in thunderstorms' is thought to refer to a tile-stone roof that would have been common to both houses. Lewis rhapsodises the ubiquitous 'pale oaks' that are such a contrast to the encircling stone walls of the old castle, and he even names the master carpenter, Roger ap Owen (Rhosier ab Owain), who may also have built Upper House. Ieuan's hall, too, was the scene of unrestrained hospitality, like a second Ehangwen, as King Arthur's hall is traditionally known. As many as sixty guests were gathered there on one occasion, bedding down afterwards on the floor of the hall, sustained by the luxury of white bread and an ocean of drink.
Such houses subsequently fell out of fashion and Upper House at Painscastle was inevitably reduced to a farm-house. The lower (service) wing was rebuilt and projections for a porch and stair have been added at both the front and the rear of the hall. An upper floor, and a stair, have been inserted into the hall. In recent years the magnificent roof timbers of the hall were severely charred by fire damage, to the extent that accurate tree-ring dating is now impossible. The house today is sadly derelict. One hopes that it will soon be restored in the manner of similar houses in the region – and that the jovial shade of Lewys ap Gwatcyn may animate it once more.
Cefnllys and Upper House are described in Richard Suggett, Houses and History in the March of Wales: Radnorshire 1400 – 1800 (Royal Commission on the Ancient and Historical Monuments in Wales, Aberystwyth, 2005), pp.37-43.