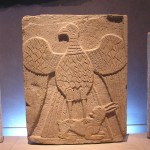 Further to my last blog, the Nea Mone, Chios, was not quite deserted when I visited it on Thursday 10 October 1991, as I was reminded on re-reading my diary of the journey.
The previous day I had lunched with elegant Greek friends in Athens, before embarking at Piraeus on the Sappho, bound for Chios at 7 o'clock. I describe the 'hellish atmosphere' on board, 'my class in one communal room with bar & food, television. Shortage of seats, which were cramped & uncomfortable. Many Turks, gipsies (one dirty boy begged from me) and soldiery. Slept badly …'
All was well on my arrival at Chios town. It had a 'very Turkish atmosphere. Shacks built on top of the ramparts. Giustiniani Museum with a few Byzantine relics.' On Thursday afternoon, the redoubtable Pandeles Spanos ('the beardless') drove me 'up mountain to Nea Mone – sick-making hair-pin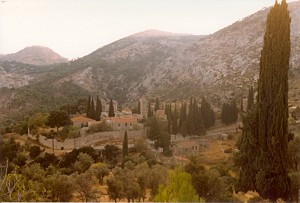 bends, a long drive to a very remote place …' Pandeles thought we should delay our arrival till 3.45, as the monastery would surely be closed 'for a long lunch'. He proved to be an enthusiastic and knowledgeable guide. 'A kindly old monk supervised in the church – an illiterate.' Pandeles 'explained that I was a writer of Byzantine history, about which he was unfortunately ignorant. Later another, younger monk appeared, & an elderly nun, who gave me Turkish Delight & a cup of water. She had seemed charmed when I doffed my hat to her & also when I said the sweet was "nostimo" – delicious.'
We 'went on to Anavatos, a desolate, haunted place, inhospitable enough even when inhabited'.
It is strange that my strongest memory of this day should be of seeing the Emperor Monomachos's prayer book, and that, of all details, I should have omitted to mention this in my diary.