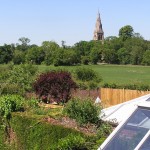 The Bakelite Museum in Somerset, housed in a cramped 18th-century mill, is facing closure. According to The Daily Telegraph, 'an off-duty fire officer visited the museum and considered a fire escape through a roof hatch to be inadequate'. The problem, it seems, is that this and other escapes are simply 'not wide enough for overweight visitors'.
Would a solution not be for the museum to impose 'width restrictions' at the point of entry, much as there are height restrictions at fairgrounds? There is presumably no law against discrimination on the grounds of one's size or shape. Stout people are already excluded from numerous activities, such as bobsleighing and flying gliders, so they need not feel affronted.
The ever obliging Devon and Somerset Fire Service should, of course, advise on the appropriate width.