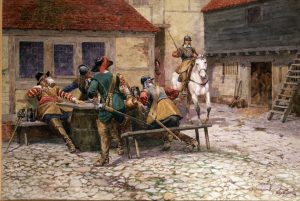 FROM CAMELOT TO KERNOW: THE WANDERINGS OF THE WILLOUGHBY FAMILY by RUPERT WILLOUGHBY
The summer of 1647 was not the most auspicious time to be married. With the King a prisoner of Parliament, the anxieties of the Civil War were unresolved. Whilst the defeated Royalists seethed against the exactions of Parliament, the country was drenched by almost incessant rain, which promised yet another ruined harvest and seemed a sure sign of divine displeasure. Long-distance travel was exceptionally difficult and dangerous, any stranger being viewed with deep suspicion and liable to lynching as a spy.
Thomas Wilby was a native of Colchester in Essex – the ancient Camaloduno, famed in Arthurian legend – one of the great commercial centres of England and a Parliamentarian stronghold. Having fallen foul of the town's oppressive Puritan government, Thomas took passage on a ship that spirited him as far away as possible from Colchester. He duly stepped ashore in far Cornwall, or 'Kernow', whose people spoke a foreign language, were widely despised as a barbarous, beggarly race, and were notorious among the English for their fanatical Royalism. It was perhaps only his disarming youthfulness – Thomas was barely 21 – that prevented him from being quietly murdered. 
This is the true story of Thomas's arrival in Cornwall and of his marriage, within months, to a well-connected local girl, Margaret Nicholas of Sithney. Their surname rapidly adapted to 'Willoughby' (which the Cornish found easier to pronounce), Thomas and Margaret were the ancestors of all subsequent Willoughbys in Cornwall. Their descendants have been like Abraham's – as numberless as the stars.
The couple's younger son, also Thomas, settled at Illogan on Cornwall's dramatic northern shore. He founded a line which, for six generations, farmed the same small estate at Great Nancekuke, close to the very edge of the heather-clad cliffs. They also dabbled in wrecking and tinning, for Illogan was at the heart of the mining country. However, when the latest steam machinery appeared on the increasingly industrialised landscape, it inspired an enterprising younger son, William Willoughby, to become an engineer.
Perhaps the protégé of Richard Trevithick, inventor of the steam locomotive, William went on to found, in 1844, what became Willoughby Brothers of Plymouth, builders of sturdy small ships and of all manner of iron structures and machinery, much of which is visible in and around Plymouth today.
This book includes a full, up-to-date account, with biographical sketches, of all traceable Willoughby descendants, including those through the female line. They include such luminaries as Kenneth Kendall, the newsreader who made broadcasting history; Sir Ernest Willoughby Petter, who built the first British motor-car and later founded Westland Aircraft; Sir Arthur Hockaday, Denis Healey's 'ideal' of a private secretary; and countless others who have made their mark in a quiet way, such as Josephine Willoughby, one of the earliest female students at Cambridge. It is intended to surprise and delight every Willoughby descendant, and to enthral every devotee of historic Kernow.
This 192-page A4 bound paperback book, with colour covers, nearly 80,000 words of text, ten genealogical tables and eighteen colour plates has been limited to an imprint of seventy copies. Only a few are still available and they can be ordered from the author at a price of £45.00 each. Please contact RupertWilloughby@btinternet.com.