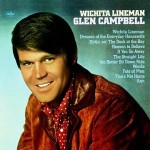 'Wichita Lineman' was composed by Jimmy Bell for Glen Campbell and recorded on his album of the same name in 1968. Bell claims that it was accepted by the record company before he had had time to write a final set of verses. Valiantly filling the gap, I suggest two alternative endings (in italics) below.
I am a lineman for the county,
And I drive the mainroad,
Lookin' in the sun for another overload.
I hear you singing in the wire,
I can hear you through the whine,
And the Wichita Lineman
Is still on the line.
I know I need a small vacation,
But it don't look like rain,
And if it snows that stretch down south
Won't ever stand the strain.
And I need you more than want you,
And I want you for all time,
And the Wichita Lineman
Is still on the line.
When I'm lookin' down them cables,
That connect me to you.
My heart's soarin' high like clouds
Across them skies of blue.
The sun is on my back now,
And the dust is in my eyes,
Still I hear your voice singing,
As I cut through the wires.
or …
The wind is getting high now,
And I can't do no more,
And soon I'll beat that road
That takes me back to Wichita.
The sun will soon be settin',
But the mainroad's straight and true,
Like the heart that always leads me
Right back to you.
(Wichita Lineman has been described as 'the first existential country song'. In 2004 it was voted No.192 on Rolling Stone's list of the '500 Greatest Songs of All Time'.)