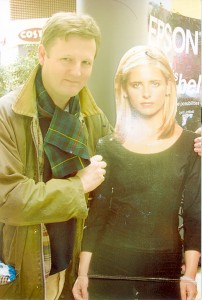 The uniqueness of Rupert Willoughby appears to have been short-lived.
It began on 2 September 2010 with the death of my only known namesake, Rupert A. Willoughby of Cleveland, Ohio – though apparently there have been other Rupert Willoughbys in America, including one born at Lafayette, Indiana, on 2 February 1889. The musical director of the City of Sunderland Millennium Orchestral Society, Rupert Willoughby Hanson, has otherwise been the nearest approximation to a namesake that I have ever come across. (There was an earlier Rupert Willoughby Hanson, too, appointed a Companion of the Order of the Indian Empire in 1927.)
Willoughbys are numerous in England, yet none seems ever to have borne so distinctive and euphonious a combination of names. Since the death, last year, of Cleveland Rupert, I proudly bore it alone.
All that has changed since the birth, on 23 February 2011, of Rupert James Hugh Willoughby, younger son of James and Lady Cara Willoughby (nee Boyle). James is the grandson of Lord Middleton and Cara is a daughter of the Earl of Cork and Orrery.
We belong to different tribes of Willoughbys. Their earliest-known male-line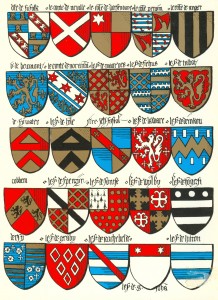 ancestor was William Willoughby of Willoughby-in-the-Marsh, Lincolnshire, in the time of Richard I. Mine was an Elizabethan yeoman, John Wilby of Colchester. 'Wilby' was a common variant of 'Willoughby': see, for example, the famous MS of the arms of the English nobility, now in the Bibliotheque de l'Arsenal in Paris, where the arms of 'de Wylby' depicted (second row from bottom, second from right) are those of the Lincolnshire Willoughbys. Though these arms were also borne by a George Willoughby who was living at Colchester at the same time as the yeoman John, my stock may just as easily derive from Wilby in Suffolk as from Willoughby in Lincolnshire – not to mention the Wilbys in Norfolk and Northamptonshire whence they might also have come.
As all these villages were within the Danelaw, our shared Viking ancestry is, at least, beyond reasonable doubt. The eponymous 'Willa' who gave his name to the 'byr' or 'by' in each of these counties was no doubt some sea-rover or 'creeker' who had daringly penetrated far inland, founding the homestead or single farm that had developed, over time, into a village. The movements of these settlers, throughout the British Isles, can be traced very conveniently through the place names that they left behind.
My father, Christopher, had many namesakes and was regularly confused in military circles with Brigadier Christopher Willoughby, young Rupert's great-grand-uncle. However, it is likely to be some time before the lad is lecturing on the Bayeux Tapestry, writing books about Basingstoke or preparing his own website. I am therefore delighted to welcome him into the charmed circle of Rupert Willoughbys.