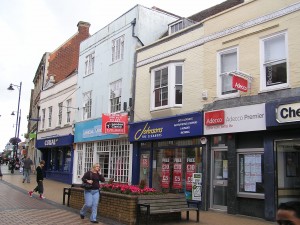 A local historian believes he has discovered the Basingstoke house in which Katherine of Aragon spent a night in 1501, on her way to marry the elder son of Henry VII.
Katherine is known to have passed through the town on her journey from Plymouth. She was the guest of Richard Kingsmill, a prominent Basingstoke citizen.
Kingsmill's house was on the south side of Winchester Street, most of which he owned. It would have to have been very large, as well as grand, to accommodate Katherine's entourage. The buildings in Winchester Street today are mostly modern, with none appearing to match the description of a grand Tudor building.
However, Rupert Willoughby believes he has identified the house as the one immediately west of Barclays Bank, which was long ago converted into shops. He discovered it by chance while researching a new history of the town.
He describes his book, Basingstoke and its Contribution to World Culture, as a quest for the lost Basingstoke, which he believes has been ruined by post-war developers. To his delight and surprise, he discovered that much of the old 'Top of Town' had been preserved, including all but one of its historic coaching inns.
He considers the Maidenhead Inn in Winchester Street, first mentioned in 1671, to have been the former Kingsmill house. Large town houses were particularly suitable for conversion into inns and this is known to have happened to Sir James Deane's house next door – on the site now occupied by Barclays Bank – which became the Angel.
The Maidenhead has added historical interest as the landlady, Mrs Martin, was an acquaintance of Jane Austen. Jane's father is thought to have been a member of the Hants Club which regularly met there. Mrs Martin organised the Town Hall assemblies that are re-created in her novels.
Mr Willoughby points to evidence of an archway for coaches that has since been filled in. He calls for an urgent investigation by architectural historians, so that the date of the building can be established, and steps taken to ensure that it is properly preserved.
Katherine of Aragon's marriage to Arthur, Prince of Wales, which took place shortly after her visit to Basingstoke, was an event that changed the course of history, as it gave her second husband, Henry VIII, the pretext for his divorce.
The people of Basingstoke are likely to have turned out in large numbers to greet her, though they may not have been impressed by her Spanish entourage. Sir Thomas More was to describe them as 'undersized, barefoot pygmies' and 'refugees from hell'.
Rupert Willoughby's book, Basingstoke and its Contribution to World Culture, is available now from all good stockists, priced at £10.99. For more information, see http://www.rupertwilloughby.co.uk/books.