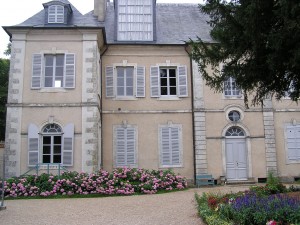 Since their meeting in 1852, Alexandre Dumas fils had formed a close friendship with George Sand, whom he addressed as his 'Mama'. In the summer of 1861, he spent a restorative month with her, alone, at the Château de Nohant, her home in the Berry. There was much discussion of his mistress, the beautiful Nadezhda Naryshkina. She had long since abandoned her aristocratic husband in Russia, but his inability to marry her had driven Dumas mad with frustration. Sand, an advocate of free love, scarred by her own unhappy marriage, had heard bad reports of Nadezhda and would have thought him unwise, but had done her best to encourage him and cheer him up.
A few weeks later, Nadezhda had been persuaded to accompany Dumas on a return visit to Nohant, invited by Sand to view one of the famous performances in her private theatre. Dumas wrote on 20 September, asking if Nadezhda's teenage daughter, Olga, might join them. 'She can sleep in her mother's room on a sofa. She, as a young Muscovite traveller, will love that!' He had also begged to be allowed to bring his burly painter friend, Charles Marchal, known as 'the Mastodon', who 'can sleep anywhere, under a tree, under the well'.
Sand had written separately to Dumas and to Nadezhda at Villeroy, assuring them that all would be welcome. Surprisingly in awe of Sand, and expecting to feel inadequate, Nadezhda had been putting off a meeting and had hoped to leave after a day. The socialist Sand, who at fifty-seven was fixed in her ways, had been somewhat apprehensive, too. The 'princess' might be shocked by the 'democratic' spirit of Nohant, by having to sit side by side with the hairdresser, the cloth merchant, the vet and other lesser beings, for all were received there on equal terms. Even at the last minute she had fussed over the arrangements, concerned that the presence at the table of a young actress, Marie Lambert, might offend.
The Dumas party had arrived at the gracious, comfortable little château, set in its paradise of a park, late in the evening of 25 September. It had been a gruelling journey from Paris: eight hours in the train to Châteauroux, then three hours along a bumpy road in a diligence. Théophile Gautier, visiting for the first time in 1862, felt that he had been dumped in the middle of nowhere. 'They pushed my trunk through a bush. I entered by way of the farm. There were dogs on all sides that frightened the life out of me.'
The guests had been led up the grand staircase to their rooms on the first floor, or, in Marchal's case, the attic, where he was to sleep on a camp bed. Under the light of her Venetian chandelier, the mannish, cigar-smoking Sand and her son Maurice had awaited them in the opulent salon, with its Louis XVI armchairs and harp and the piano that Chopin (a former lover) used to play, Sand's own famous portrait by Charpentier and those of her illustrious ancestors, including Maurice de Saxe, natural son of the King of Poland. Marie Lambert had been there, along with Léon Brothier, who had arrived by the morning train. Sand had noted of Marchal, as big and boisterous as her Newfoundland dogs, that he had 'a nice face'. Dumas had brought depressing news, a mutual friend having suddenly died, and the party had gradually dispersed, sad and exhausted, to bed.
George Sand imposed strict rules on her guests. Breakfast was at ten, followed by bowls in the garden and chat. Certain fixed hours of the day and night were set aside for working, a sacred ritual. At other times she could be found in the salon. For Dumas's visit, she had dedicated three evenings for performances in her little theatre, with Marie Lambert in a leading role. The one-time library, off the entrance hall, was permanently fitted with a stage, backdrops and curtains. There was an alcove on one side where Maurice gave his spirited puppet shows. Sand had wanted to try out her latest work, a 'fantastical piece in three acts, a bewildering fantasy' called Le Drac, and was eager for her friends' expert opinion. As for her bucolic neighbours who would make up the bulk of the audience, 'they may not understand a single word, but we won't care. We don't want them thinking that this is just for their amusement.'
She had promised a series of demanding performances lasting well into the night and guaranteed to make her audience sweat. Whether Nadezhda and Olga had been able to make sense of Le Drac is unclear, but Sand later reported that it had 'greatly pleased Dumas fils and other competent observers'. It was perhaps with some relief that the Russian ladies had left on 30 September, to be followed by Dumas on 9 October. The rascally Marchal, an unabashed, unsubtle womaniser who never failed to amuse, had stayed on till 22 November, having charmed his way into his ageing hostess's bed.
Marchal had soon proved unreliable, but at least Sand seems to have taken a favourable view of 'the two Russias' (as Dumas called them), and to have been impressed by their exotic pedigree. Always remembering them to Dumas in her letters, she referred to them as 'the châtelaines of Villeroy' or 'our princesses', whilst Olga is variously 'the young autocratess Gachetscowa I' or 'the fair young Czarine'. Olga was destined to make an impression, having grown into the image of her mother, with the same delicate features, Roman nose and auburn hair. George Sand was thenceforth to be notably solicitous for her welfare.