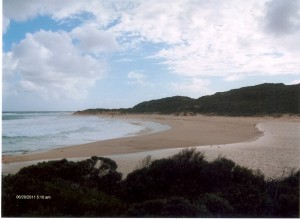 The Margaret River region, in South-Western Australia, is famously wild and beautiful. It is now as well-known for its fine wines as for its whale-watching. This exotic picture has been kindly contributed by Jan Matthews of the Margaret River District Historical Society. She writes:
The view is of the Margaret River at its mouth, just about to break through to the sea. In the summer it is landlocked, but after the first winter rains it gains enough momentum to breach the sandbank and flow steadily until the next summer. I took this photo last week and since then it has broken through – an event always reported like that first cuckoo … We are enjoying a cold winter with quite a bit of rain, which is very welcome, as storages are low due to several below-average winters.
The time that my camera put on the photo is NOT accurate! It was something like 11.30am – much more civilised – and likely.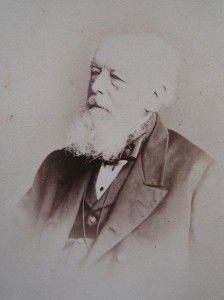 THE QUEST FOR MARGARET WHICHER
Margaret River, in South-Western Australia, is named after an Englishwoman, Margaret Whicher (1822 – 1915). A cousin of John Garrett Bussell, the pioneering settler and explorer of the region, Margaret was the eldest daughter of James Whicher, a surgeon of Petersfield, Hampshire (pictured left), and his wife Anna, daughter of Lieutenant-General Charles Norris Cookson, R.A.
John and his brothers had set sail from Portsmouth on the Warrior on 9 October 1829. While the ship was loading, the Whichers had generously sent down various treats from Petersfield. Such items as gingerbread and pickles proved to be a great comfort during the voyage, and the brothers were profuse in thanking their 'Petersfield friends'.
In 1837, having founded Busselton, John Garrett Bussell had returned to England in search of a wife. His proposal to the pretty Margaret (she and her sisters were known in Petersfield as 'the Bewitchers') had unfortunately been rejected. She was only fifteen, and her father was reluctant to condemn her to a life of hardship and uncertainty in an undoubted 'wilderness'.
John had married someone else – a capable widow – and within the year was back in Australia, helping the cartographer Arrowsmith to draw up the first map of the region. As James Whicher was one of backers of his proposed sheep-farming venture, he received the compliment of having a range of low hills named after him. The river that rises out of the Whicher Range was named after Margaret, the child-bride who might have been. John must have had a high opinion of her. None of the other ladies in his family (including his wife) has any sort of territorial feature named after her.
In 1852, Margaret (known as 'Peggy') married the Basingstoke solicitor Joseph Shebbeare, a man old enough to have been her father. Joseph died in 1860 and in 1876 she married Samuel Chandler, who had been Joseph's junior partner. There were no children. Peggy's home for nearly fifty years was a fine Tudor house (with later additions) in Church Street, known later as Queen Anne House. The building was demolished in 1966 to make way for the Basingstoke 'megastructure'. It stood beneath what is now Marks and Spencer's store.
As a great-great-great-nephew of Margaret, I have been delighted to assist members of the Margaret River District Historical Society in their quest for information about her (though I have usually found them to be one step ahead of me). In default of a portrait or photograph (none has been found), the search is on for her grave. On her recent visit to England, Jan Matthews and I inspected the Whicher tomb in Petersfield cemetery, but there is no evidence of Margaret being buried there. To our delight, however, we were able to tour the house on the High Street in which she was born.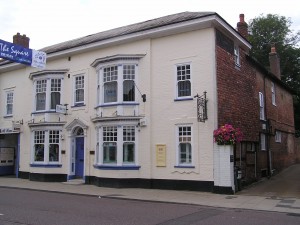 Lyndum House, as it is now known, is used as offices by Dalton's, a firm of solicitors. We were most grateful to Gill Moss-Bowpitt, the practice manager, and her cheerful staff for their hospitality. It is a large, timber-framed house of great age. We were impressed by its fine galleried staircase under a domed roof and by the master bedroom overlooking the back garden. Below it, on the ground floor, is a magnificent drawing-room with tall, shuttered windows. There would have been ample space for the many Whicher children. We even explored the spacious attic, with its series of rooms for the servants, and the narrow back garden which, at one time, ran down to the stream. It is altogether a most impressive and desirable property, sadly sold by my family after the death of James Whicher in 1875.
A full account of the Bussell brothers and of Margaret Whicher's life in Petersfield and Basingstoke is included in my latest book, Basingstoke and Its Contribution to World Culture. See also:
http://www.petersfieldpost.co.uk/news/top_australian_wine_region_named_after_lost_love_from_petersfield_1_2666638
and