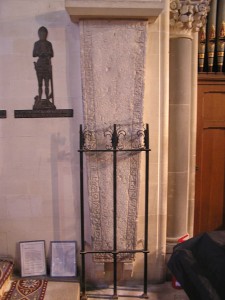 The view from the Cuttings includes the parish church of St Mary, Stratfield Mortimer, of which there have been Saxon, Norman and Victorian versions. In 1866, when the Victorians were undoing the Norman work, they discovered an upturned tombstone under the floor of the tower, with a complete inscription (in very idiosyncratic Latin) that reads as follows:
+ VIII . KL . OCTB/FVIT . POSITVS AEGELPARDVS . FILVS KIPPINGVS IN ISTO LOC/O BEATVIS SIT OMO QVI ORAT PRO ANIMA EIVS + TOKI ME SCRIPSIT
'On the 8th before the Kalends of October (24 September) Aegelward son of Kypping was laid in this place. Blessed be the man who prays for his soul. Toki wrote me.'
The tombstone is 6'6″ long, 20″ wide at the top and 14″ at the base.
A date not before 1020 has been suggested (the Vikings had destroyed anything that went before) and Aegelward's father is perhaps the 'Cypping' who is mentioned in Domesday Book. Cypping was a thegn who, in the time of Edward the Confessor, shared the lordship of Stratfield with his kinsman Edwin, as well as holding numerous other manors in Berkshire and Hampshire. He is said to have held Silchester from King Harold, so must have been alive in 1066. The tombstone is a unique relic from those times. The whereabouts of the early manor-house at Stratfield Mortimer remains a mystery.